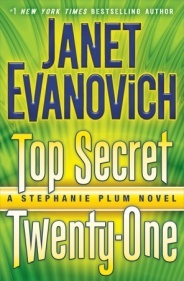 Titel: Top Secret Twenty-one
Auteur: Janet Evanovich
Uitgeverij: Bantam
305 p.
"Trenton, New Jersey's favorite used-car dealer, Jimmy Poletti, was caught selling a lot more than used cars out of his dealerships. Now he's out on bail and has missed his date in court, and bounty hunter Stephanie Plum is looking to bring him in. Leads are quickly turning into dead ends, and all too frequently into dead bodies. Even Joe Morelli, the city's hottest cop, is struggling to find a clue to the suspected killer's whereabouts. These are desperate times, and they call for desperate measures. So Stephanie is going to have to do something she really doesn't want to do: protect former hospital security guard and general pain in her behind Randy Briggs. Briggs was picking up quick cash as Poletti's bookkeeper and knows all his boss's dirty secrets. Now Briggs is next on Poletti's list of people to put six feet under.
To top things off, Ranger—resident security expert and Stephanie's greatest temptation—has been the target of an assassination plot. He's dodged the bullet this time, but if Ranger wants to survive the next attempt on his life, he'll have to enlist Stephanie's help and reveal a bit more of his mysterious past."