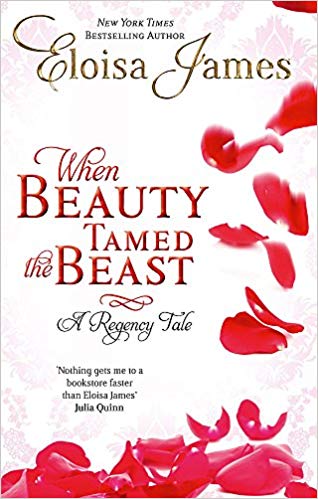 Titel: When Beauty tamed the Beast
Auteur: Eloisa James
Uitgeverij: Piatkus
Bladzijden: 344p.
Bron: eigen collectie
If only Miss Linnet Berry Thrynne hadn't been caught kissing that prince … But now the ton believes Linnet to be with royal child – and therefore unmarriageable – so she might as well make her desperate father happy by consenting to wed a beast.
A brilliant surgeon with a reputation for losing his temper – and a wound believed to have left him … incapable – Piers, Earl of Marchant, should welcome a bride-to-be carrying a ready-made blue-blooded heir. But Piers isn't fooled by the lady's subterfuge, and though Linnet's devilishly smart and lovely, there will be no weding of beauty to beast.
Still, Lisle finds the gorgeous brute intriguing. And it's obvious to the naked eye that 'incapable' does not mean 'uninterested' …