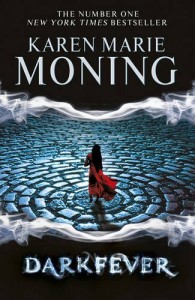 Titel: Darkfever                                                              (A MacKayla Lane Novel, 1)
Auteur: Karen Marie Moning
Uitgeverij: Orion Books
347 p.
"MacKayla Lane's life is good. She has great friends, a decent job, and a car that breaks down only every other week or so. In other words, she's your perfectly ordinary twenty-first century woman … until something extraordinary happens.
When her sister is murdered, Mac journeys to Ireland in search of answers. The quest to find her sister's killer draws her in to a shadowy realm where nothing is as it seems, where good and evil wear the same treacherously seductive mask. She is soon faced with an even greater challenge: staying alive long enough to learn how to handle a power she had no idea she possessed – a gift that allows her to see beyond the world of man, into the dangerous realm of the Fae …"