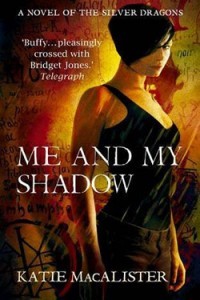 Titel: Me and my shadow                       (Silver Dragons, #3)
Auteur: Katie MacAlister
Uitgeverij: Hodder & Stoughton
330 p.
"May Northcott is feeling the heat. Her demon boss has moved in and is making life hell. Her scorching hot dragon lover seems to thing everything can be solved with a fiery kiss. Worse still, she's being shadowed by her disty twin sister – a naiad who simple can't seem to stay out of trouble.
The arrival of a nearly-dead man on May's doorstep could be the final spark that sets light to their tinder-box world.
And with dragon war imminent, it's looking increasingly like it will be up to May (and her watery shadow) to stop it before the fire consumes them all …"