Edge of Dawn - Lara Adrian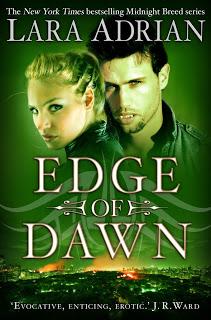 Titel: Edge of Dawn (Midnight Breed, 11)
Auteur: Lara Adrian
Uitgeverij: Canvas
340 p.
"Twenty years after the terror of First Dawn—when mankind learned that vampires lived secretly among them— the threat of violence reigns as the two species struggle to coexist. The only group preserving the fragile harmony is the Order, an elite cadre of Breed warriors dedicated to protecting humans and vampires alike. And in this precarious world of torn loyalties and shattered trust, Mira, a fiery squad captain, finds that every fight bears an intensely personal cost.
Raised among the Order, Mira has always believed in the warrior's code of swift—and even lethal—justice. But the one thing she desires more than the Order's hard-won acceptance is Kellan Archer, a sexy but troubled Breed fighter. In love with him since childhood, Mira once broke through his tough exterior during an unexpected night of rapture, but the next day he mysteriously disappeared, never to return.
Kellan didn't think he would ever see Mira again—or have to confront the truth of why he left. After abandoning the Order years ago, he now leads a band of human rebels intent on carrying out their own vigilante rule of law. Yet a high-profile kidnapping assignment brings him face-to-face with the past he sought to avoid, and the striking woman he has tried desperately to forget. And as tensions mount and the risk of bloodshed grows, Kellan and Mira must take sides—between the competing missions that dominate their lives, and the electrifying passion that claims their hearts."
Toen ik net 'Darker after Midnight' had uitgelezen was ik heel benieuwd hoe Lara Adrian ging verder gaan met deze reeks. Een hoofdstuk werd immers afgesloten en voor dit nieuwe boek maken we meteen een tijdsprong van twintig jaar.
'Edge of Dawn' stelde me echter al snel gerust, Lara Adrian bewijst opnieuw dat ze er nog steeds in slaagt om door een combinatie van spanning, fantasy en verleiding een boek te schrijven dat gegarandeerd voor ontspanning zorgt.
Twintig jaar nadat de Broederschap naar buiten trad, zijn er bovendien nog steeds erge conflicten. Niet iedereen heeft deze openbaring even goed opgenomen, sommige zijn zelfs zo fanatiek in hun protest dat de twee rassen tegen elkaar worden uitgespeeld. Een strijd die steeds meer op een oorlog lijkt af te stevenen.
De clan die de Broerderschap-leden vormen is ondertussen erg gegroeid. De Orde doet zijn uiterste best om de vrede te bewaren. En er is een heel nieuwe generatie strijders die de straten voor iedereen veilig trachten te houden. Deze jongeren moeten duidelijk nog niet aan een vroegtijdig pensioen denken omdat uit de assen van hun eerder verslagen vijand alweer een nieuwe tegenstander lijkt te zijn verrezen.
Mira die ondertussen opgegroeid is tot Strijder, is maar al te goed op de hoogte van deze dreigende situatie. Ze ontdekt echter al snel dat er haar nog een andere verrassing te wachten staat ...