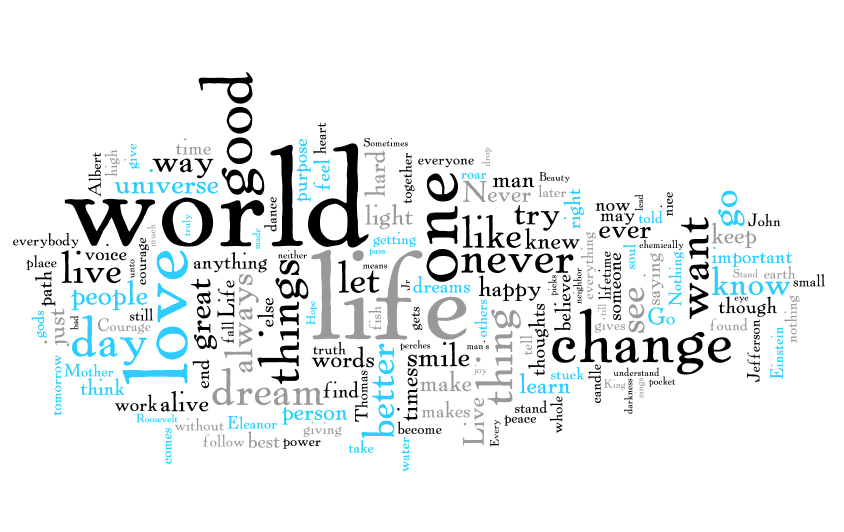 Only someone who is well prepared has the opportunity to improvise. – Ingmar Bergman
***
I am different, not less. – Temple Grandin
***
People make mistakes in life through believing too much, but they have a damned dull time if they believe too little.- James Hilton
***
Good books tell the truth, even when they're about things that never have been and never will be. They're truthful in a different way – Stanislaw Lem
***
Books are like imprisoned souls till someone takes them down from a shelf and frees them. – Samuel Butler
***
A word after a word after a word is power. – Margaret Atwood
***
A well-composed book is a magic carpet on which we are wafted to a world that we cannot enter in any other way. – Caroline Gordon
***
Reputation is what other people know about you. Honor is what you know about yourself. – Lois McMaster Bujold
***
None of us really changes over time. We only become more fully what we are. – Anne Rice
***
Poetry is a way of looking at the world for the first time. – W.S. Merwin
***
Many people, myself among them, feel better at the mere sight of a book.- Jane Smiley
***
Nowadays people know the price of everything and the value of nothing. – Oscar Wilde
***
It's not the load that breaks you down, it's the way you carry it - Lou Holtz.
***
Imagination does not become great until human beings, given the courage and the strength, use it to create. - Maria Montessori
***
Learning to ignore things is one of the great paths to inner peace - Robert J. Sawyer.
***
A person often meets his destiny on the road he took to avoid it - Jean de La Fontaine.
***
I loved her not for the way she danced with my angels but for the way the sound of her name could silence my demons. – Christopher Poindexter
***
I was never insane except upon occasions when my heart was touched – Edgar Allan Poe
***
Perhaps our eyes need to be washed by our tears once in a while, so that we can see life with a clearer view again – Alex Tan
***
If it is not right do not do it; if it is not true do not say it. – Marcus Aurelius
***
You are so brave and quiet I forget you are suffering. – Ernest Hemingway
***
Success is not final, failure is not fatal, it is the courage to continue that counts. – Unknown
***
I hope that in this year to come, you make mistakes. Because if you are making mistakes...you're Doing Something. - Neil Gaiman
***
It is better to know some of the questions than all of the answers. ~ James Thurber
***
You are at once both the quiet and the confusion of my heart. – Franz Kafka
***
The problem with the world is that the intelligent people are full of doubts while the stupid ones are full of confidence ~ Charles Bukowski
***
Science is organised knowledge. Wisdom is organised life. – Immanuel Kant
***
Life can only be understood backwards; but it must be lived forwards. – Soren Kierkegaard
***
All our knowledge begins with the senses, proceeds then to the understanding, and ends with reason. There is nothing higher than reason. – Immanuel Kant
***
It is never too late to be who you might have been. – George Eliot
***
The highest form of treason: to do the right thing for the wrong reason. – T.S.Eliot
***
Divide each difficulty into as many parts as is feasible and necessary to resolve it. – Rene Descartes
***
Some books are to be tasted, others to be swallowed, and some few to be chewed on and digested. – Francis Bacon
***
Find something you're passionate about and keep tremendously interested in it. – Julie Child
***
The great thing in this world is not so much where we stand, as in what direction we are moving. – Oliver Wendell Holmes
***
The less people speak of their greatness, the more we think of it. – Francis Bacon
***
It is not so much our friends' help that helps us as the confident knowledge that they will help us. – Epicurus
***
"Everything we hear is an opinion, not a fact. Everything we see is a perspective, not the truth." - Marcus Aurelius
***
There's a crack in everything. That's how the light gets in. - Leonard Cohen
***
Those who don't believe in magic, will never find it. - Roald Dahl
***
To be yourself in a world that is constantly trying to make you something else is the greatest accomplishment. - Ralph Waldo Emerson
***
We must be willing to let go of the life we have planned, so as to have the life that is waiting for us. - Joseph Campbell
***
Simplicity is the ultimate sophistication. - Leonardo da Vinci
***
Every day may not be good, but there is something good in every day. - Unknown
***
Rudeness is the weak person's imitation of strength. - Eric Hoffer
***
I myself am entirely made of flaws, stitched together with good intentions – Augusten Burroughs
***
Our greatest glory is not in never falling, but in rising every time we fall. – Confucius
***
Don't let what you can't do stop you from doing what you can do. – John Wooden
***
Logic will get you from A to B, imagination will get you everywhere. – A.Einstein
***
You must give up the life you planned in order to have the life that is waiting for you. – Joseph Campbell
***
Books fall open, you fall in, delighted where you've never been. - David McCord
***
Don't chase after the people that hurt you, replace them with people that care. - Kaoru Shinmon
***
A mistake is simply another way of doing things. – Katharine Graham
***
Dreaming permits each of and every one of us to be quietly and safely insane every night of our lives. – William Dement
***
One must always be careful of books, and what is inside them, for words have the power to change us. - Tessa Gray
***
The book to read is not the one that thinks for you but the one which makes you think. - Harper Lee
***
What you read when you don't have to determines what you will be when you can't help it. - Oscar Wilde
***
There are far better things ahead than any we leave behind. - C.S.Lewis
***
Everyone thinks of changing the world, but no one thinks of changing himself – Leo Tolstoy
***
Je kunt het licht niet ontdekken door de duisternis te analyseren. – Wayne Dye
***
Durven is even je evenwicht verliezen, niet durven is uiteindelijk jezelf verliezen. – Soren Kierkegaard
***
Time does not change us. It just unfolds us. – Max Frisch
***
Be who you are and say what you feel, because those who mind don't matter and those who matter don't mind. - Dr. Seuss
***
You don't need someone to complete you. You only need someone to accept you completely – Unknown
***
The true mystery of the world is the visible, not the invisible. – Oscar Wilde
***
If people are good only because they fear punishment, and hope for reward, then we are a sorry lot indeed. – A.Einstein
***
You can't start the next chapter of your life if you keep re-reading the last one. - Unknown
***
Sanity calms, but madness is more interesting. – John Russell
***
Everyone chases after happiness, not noticing that happiness is right at their heels. – Bertolt Brecht
***
Reading a book is like re-writing it for yourself. You bring to a novel, anything you read, all your experience of the world. You bring your history and you read it in your own terms. - Angela Carter
***
You will never be happy if you continue for what happiness consists of. You will never live if you are looking for the meaning of life. – Albert Camus
***
Always remember that the future comes one day at a time. – Dean Acheson
***
We don't see things as they are, we see things as we are. – Anais Nin
***
I believe that everyone else my age is an adult whereas I am merely in disguise. – Margaret Atwood
***
It's not who you are that holds you back. It's who you think you're not. – Unknown
***
Faith consists in believing when it is beyond the power of reason to believe – Voltaire
***
Good friends, good books and a sleepy conscience: this is the ideal life. – Mark Twain
***
Fiction reveals truths that reality obscures. – Jessamyn West
***
Faith is a knowledge within the heart, beyond the reach of proof. – Khalil Gibran
***
A sure way to lose happiness, I found, is to want it at the expense of everything else. – Bette Davis
***
Be faithful in small things because it is in them that your strength lies. - Mother Teresa
***
Life consists not in holding good cards but in playing those you hold well. – Josh Billings
***
He who has a why to live can bear almost any how. – Friedrich Nietzsche
***
The only thing worse than being blind, is having sight and no vision. - Unknown
***
'Real integrity is doing the right thing, knowing that nobody's going to know whether you did it or not.' - Oprah Winfrey
***
'Not all those who wander are lost' - J.R.Tolkien
***
'Je bent pas oud als spijt de plaats van dromen inneemt.' - John Barrymore
***
'Wanneer je de moed hebt de muur van je angst te naderen, verandert deze in een poort.' - Paul Ferrini
***
'We do not need magic to change the world, we carry all the power we need inside ourselves already: we have the power to imagine better.' - J.K.Rowling
***
'It is better to live your own destiny imperfectly than to live an imitation of somebody else's life with perfection.' - Bhagavad Gita